Governor Targets Wildfires By Pledging Millions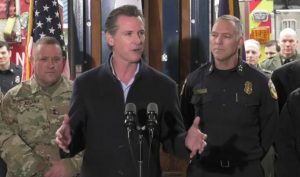 Governor Gavin Newsom in Colfax announcing wildfire funding

View Photos
Colfax, CA — California Governor Gavin Newsom is pledging to invest hundreds of millions of dollars to fight wildfires and deal with their aftermath.
At a state emergency operations center in Colfax, a Sierra Nevada foothills community at high risk for fire, Newsom stated, "It's not a coincidence that my first full day as Governor is focused on emergency preparedness. It's deliberate, it reflects intentionality, and it speaks to the priority that I place on emergency preparedness, response and recovery."
Newsom outlined $105 million in new fire-related spending be added to the already $200 million approved by lawmakers last year for a total of $305 million. Although he noted more specifics on this investment will come out in his budget due this week, he revealed that the bulk will go toward forest management and fuel reduction already approved by lawmakers. He says his plan also calls for "new equipment, historic investment, new strategies to pre-deploy resources and assets, a historical amount of money to address the need to invest in our forest to make them healthier and more resilient and always an emphasis of supporting local government."
The governor's budget includes buying new fire engines to pre-deploy in fire prone areas, improving camera technology to monitor fire threats, fixing up firefighting aircraft, investing in firefighters' mental health and boosting the California Conservation Corps, which helps with firefighting. "We are stepping up our game," promised Newsom while adding, "I hear you. I get it. We need to do more and do better. These last two years have been devastating with 167 lives lost in fires or floods. Over 33-thousand structures over a 24 month period have been lost in the state. Billions and billions of dollars…we are at a point where everyone has had enough and we need to make sure we are prepared."
At the event, Governor Newsom announced that he and the governors of Oregon and Washington sent a letter to President Donald Trump requesting double the federal government's financial investment in managing federal forestlands in those states. While noting that the U.S. Forest Service has seen its budget cut by more than $2 billion since 2016, reducing the agency's capacity to manage federal forestland in California, the letter emphasized that the western states' significant state-level efforts will not be as effective without a substantial increase to wildland management by the federal government. Newsom suggested, "Rather than talking past each other, talking down to each other, maybe we can start partnering and doing the work that needs to be done to address our forest health and forest management."
Newsom also signed two executive orders to speed up the state's procurement process for firefighting technology and gave state agencies 45 days to draft a report outlining policies and regulatory changes that could aid in firefighting and response. He will target millions to develop better communications strategies and improve emergency alert systems with the goal of bringing "more consistency" to the system. His plan includes putting $10 million toward digitizing the state's 911 system, but he acknowledges that it will likely require a fee on consumers, something the legislature tried and failed to pass last year.
The new governor avoided confronting the controversial issue of how much responsibility utilities, like PG&E, should hold when their equipment starts wildfires. Utilities are currently asking lawmakers to change the state's liability standards, some of the strictest in the nation.
Of note, Newsom named Thom Porter as the new director of CAL Fire. Porter began his career as a forester in Southern California in 1999. His duties over the years have included vegetation management, pre-fire programs and planning for wildfires. He was previously the department's chief of strategic planning. Newsom otherwise kept Brown's emergency management leadership team in place.