Sonora Agrees To 60-Day Extension In Considering TCEDA Future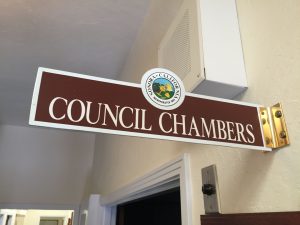 Sonora City Council Chambers

View Photos
Sonora, CA – At a special meeting called today, the Sonora City Council voted unanimously to accept a 60-day extension from Tuolumne County supervisors to review financial and management audits on the Tuolumne County Economic Development Authority (TCEDA), but not without concerns.
"We're not sure that the 60-days is enough time, but rather than just terminate outright, we'll instead use that window to continue to evaluate what the future holds for the TCEDA and the city's involvement in it," shares Mayor Jim Garaventa. He adds, "If we decided to just pull out, I don't think that would be the appropriate thing to do when we still have audits out to be done and more decisions to be made."
As earlier reported here, the city originally asked for a reduced 90-day notice from the required 180-day period, prior to the new fiscal year of July 1st, to exit the TCEDA joint powers agreement (JPA) with the county. The new 60-day agreement reduces the notification to 120-days total. Garaventa shares of a new problem facing the council involving the financial audit, relaying "It was supposed to be completed at the end of this month but that has been pushed back to near the end of January meaning the city will only have until March 1st to review the audits." That leaves about a month to make a decision on whether to continue its over $100,000 funding of the authority or to exit the agreement.
About a dozen people attended the meeting that lasted about a half an hour.  Two audience members spoke against approving the extension and called on the city to end the JPA. Garaventa relays that the next step will be for the city, county and TCEDA board to review the audits and evaluate any changes to be made, stating, "If there are things that need to be done better that come out as a result of the audits then those things need to be implemented and I think that's why the city wants to make sure those practices are put into place before we re-up for another year."
Acknowledging that it is no secret there has been some animosity between the city and the county on some issues, Garaventa hopes that in the future, "We could all strive to do better to work together in the public's best interest, in a more cohesive manner, and a more civil manner for the betterment of all of us."