Outgoing Tuolumne County Leaders To Be Recognized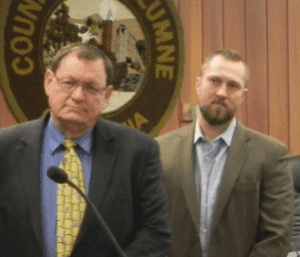 Randy Hanvelt and Evan Royce

View Photos
Sonora, CA — At Tuesday's board of supervisors meeting, Tuolumne County will recognize two outgoing board members, the retiring agricultural commissioner, and a roads leader.
It is the final regular meeting for District Two Supervisor Randy Hanvelt and District Three Supervisor Evan Royce. However, both will return for a special meeting on January 3rd to review and potentially adopt the General Plan Update. Tuesday is also the final meeting for retiring Ag Commissioner Gary Stockel and Deputy CRA Director of Roads Duke York. However, York is planning to continue to work for the county on a part-time contractual basis. All four will be recognized and receive board resolutions at 11am.
Also on Tuesday, the board will vote whether to reduce the amount of notice time required for the City of Sonora to leave the Tuolumne County Economic Development Authority. Click here to read an earlier story. The board will also approve the contract with new Agricultural Commissioner Kelle Schroder. Click here to view an earlier story.
Tuesday's meeting starts at 9am.