Calaveras Supes Wind Year Down Honoring Departing Members, Staff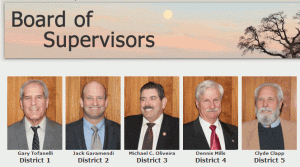 Calaveras County Board of Supervisors

View Photos
San Andreas, CA – A reception honoring two outgoing supervisors tops the next Calaveras County Supervisors' agenda.
Tuesday's meeting, slated to officially begin at 10 a.m., will kick off following the two-hour event scheduled from 8 to 10 a.m. honoring District 3 Supervisor Michael Oliveira and District 5 Supervisor Clyde Clapp, who were respectively defeated in November by incoming supervisors Merita Callaway and Benjamin Stopper. Both will receive special proclamations as well.
It will be a big day for formal recognitions and acknowledgements as honors are planned for outgoing County Administrative Officer (CAO) Tim Lutz, who tendered his resignation last month, as reported here, to accept a position as Tulare County's Health and Human Services director.
Since his hiring back in April of 2017, Lutz earned a reputation for a hard work ethic and planning skills that helped the county navigate through budgetary difficulties and also develop a vision and recruiting plan. As part of this work, he reorganized the Office of Emergency Services and helped create the county's first-ever Office of Economic Development.
Long-time County Employees Also Exit  
Also slated for their share of appreciation are Health and Human Services Staff Services Analyst Connie McClain, who has served in that department for 41 years, and Administrative Assistant Karen Osborn, who spent 18 years working for county administration.
Among the regular agenda business is the adoption of a resolution formally appointing Manuel Lopez as Interim County Administrative Officer, effective that day; also to approve quotes adding up to just under $230,000 for sheriff's office computer server upgrade related projects.
Included on the agenda for a closed session scheduled after the supes attend to the regular business are property negotiations concerning lands by the new Bear Creek low water crossing bridge on Hogan Dam Road and Forest Creek Bridge Project on Schaad Road. The board may also discuss with legal counsel two to four anticipated litigation cases and confer over matters relating to County Counsel and Interim CAO appointments.
Tuesday's meeting begins and opens to the public at 8 a.m. in the county government center's supervisors chambers (891 Mountain Ranch Road).