CAL Fire Scales Back To Winter Mode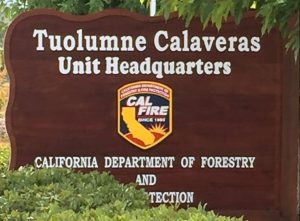 Cal Fire Tuolumne Calaveras Unit HQ sign

View Photos
Sonora, CA — CAL Fire will scale down its available resources next week because of the rains and cooler conditions.
On Monday (Dec 17) at 8 a.m., the Tuolumne-Calaveras Unit will move completely into winter preparedness mode and CAL Fire burn permits will no longer be needed. While some CAL Fire engines will be available through winter, the transition allows the agency to release seasonal firefighters, reduce staffing on fire engines and close remote wildland fire stations.
"This has been a challenging year for our great state with record loss of life, property, and watershed," indicates Unit Chief Josh White. "As we prepare for the 2019 fire year, we ask everyone to commit to creating an emergency action plan with your family. Focusing on creating and maintaining a defensible space is an excellent starting point." White notes that CAL Fire confirms that it will be able to increase resources if weather conditions change or a need arises to support wildfires or other emergencies in the state.
CAL Fire reports the 2018 fire season has been an extremely active year, with the deadliest, the most destructive, and the largest wildfires in California's recorded history. Statewide, fire personnel responded to over 6,228 wildfires that burned over 876,225 acres. Battalion Chief Matthew Gilbert details, "This year we've responded to 225 wildfires within the Tuolumne-Calaveras Unit that have charred 13,204 acres, which is significantly more acres than we have had in the past several years."
During the cooler winter months, CAL Fire plans to continue fire prevention and fuels treatment activities through public education, prescribed burns and various types of fuel reduction, which is aimed at reducing the impacts of large, damaging wildfires and improving overall forest health.
Gilbert adds that at the Columbia Air Base the air tankers have been grounded and only the helicopter remains fully staffed.