Meeting Date Changed For Red Church Project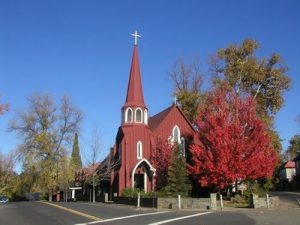 St. James Episcopal Church

View Photos
Sonora, CA – Interest in the Red Church Pedestrian Safety and Circulation Improvement Project has generated plenty of feedback which, in turn, has prompted the city to push the meeting into next year.
The City of Sonora presented its 35 percent plan review to the public at two meetings this week: one with the stakeholders including the church and Sonora High and elementary schools, and another with adjoining neighbors. An outline and map illustrating the improvement to the Washington/Highway 49, Snell and Elkins streets near the church were reported here earlier. The plan was to present the revisions to the city council on Monday (Dec. 17), but Community Development Director Rachelle Kellogg signals that in order to address all the public comments the presentation has been moved to the council's January 7th meeting at 5 p.m. in Sonora City Hall. Kellogg details the feedback, stating, "People talked to us about making sure that traffic flowed through the intersection well and then how it would affect their adjoining property like the Red Church. So, we took all comments and the engineers have met with staff and are working through the issues to make sure everything works." Kellogg went on to explain, "That the turning movements work, the vehicles that need to access the intersection are able to get through it easily, that pedestrians locations are safer and making sure that we've got everything included in there to make sure that this is a safer location for pedestrians versus vehicles in that area as that is one of the biggest reasons for the project."
After the 35% plan is approved by the council, the consultant will move on to a more detailed 60% plan followed by a final proposal. Kellogg notes that gives the public three opportunities to view the project, which if given the green light is slated to begin next fall. Questions regarding the plans can be directed to the city's Community Development Department at (209) 532-3508.