Retiring CAL Fire Chief Pimlott Speaks Out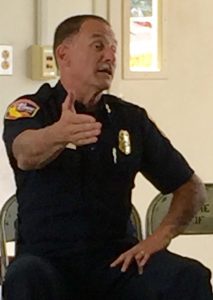 Cal Fire Director Ken Pimlott addresses tour participants

View Photos
Sacramento, CA — Ahead of his exit CAL Fire's outgoing head is speaking his mind about major ways of adapting to California's increasingly deadly, destructive and unpredictable wildfires, and the idea of a potential ban on housing developments in high fire risk areas.
CAL Fire Director Chief Ken Pimlott, whose last day is Friday and whose career with the agency spans three decades, opined that government officials and citizens must act differently to protect lives and properties from wildfires that are now routinely threatening large population bases. In an interview with Associated Press, he stated that it might be necessary to rethink locating subdivisions in particularly vulnerable areas such as thickly forested mountainous areas or building homes in dry, chaparral-lined canyons.
Pimlott also stressed the need for residents to become adept at quickly responding to wildfire warnings and ways to more safely shelter in place if they cannot outrun the flames. Other thoughts he shared included having communities in high hazard fire zones harden key commercial and public buildings with fireproof construction so they can be used as shelter in the event of a disaster similar to what occurred in the now destroyed city of Paradise, where hundreds did so in makeshift fashion last month.
Wildfires Getting Progressively Worse
According to Pimlott, every year since at least 2013 firefighters did not anticipate that the state's wildfire incidents could get worse; but they have grown more intense, driven by dry fuels, an extended drought and bark beetle infestation that caused the demise of 129 million trees, and other conditions relating to climate change.
In response, the state is doing more prescribed burns to reduce and remove wildfire fuels. Among other adaptions being made, Pimlott listed aerial response improvements such as seven new large firefighting aircraft and more firefighter supportive assistance to help them manage the mental and physical stress from a fire season that is now year round. Pimlott pointed out that contrary to President Donald Trump's criticisms of forest mismanagement, California leads the nation in clearing away dead trees and thinning crowded forested areas.
He advocated for regional planners consider wildfire warning systems that not only use new technology like automated phone calling systems, but perhaps restore civil defense-style emergency sirens in some areas. He added that Californians must come to treat "red flag" extreme fire danger warnings the way Midwesterners treat tornado warnings — as imminent threats. "The reality of it is, California has a fire-prone climate and it will continue to burn," Pimlott said. "Fire is a way of life in California and we have to learn how to live with it, we have to learn how to have more resilient communities."