$118,100 Raised For Interfaith Social Services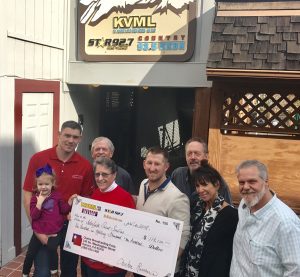 $118,100 Check Given To Interfaith Social Services

View Photos
Sonora, CA — The community stepped up to help raise over $118,000 during Clarke Broadcasting's 9th annual Cash Drive for Interfaith.
All of the proceeds from the fund-drive that ran from 6am-noon on Star 92.7, 93.5 KKBN and AM 1450 and FM 102.7 KVML go straight to Interfaith Social Services to purchase food and other necessities for residents in need in Tuolumne County. An emotional Interfaith Executive Director, Cathie Peacock, says, "I can't believe this. It is hard for me to process and grasp at this moment. It is just wonderful."
Clarke Broadcasting General Manager Larry England adds, "Again, we experienced the tremendous generosity of our community in meeting the needs of our less fortunate friends and neighbors."
Project Coordinator Maryann Curmi noted, "Donations came from people that could give just one dollar, to thousands of dollars. It proves that this community has the greatest heart."
The Chicken Ranch Rancheria of Me-Wuk Indians again generously matched all of the community donations, which brought the total to $118,100. Tribal Chairman Lloyd Mathiesen says, "We are absolutely ecstatic to be able to do this for the community. Interfaith does so many great things to help so many people."
There were several other very sizable donations. Maynord's Recovery Center donated $10,000, Adventist Health Sonora gave $5,000, Royce Construction and Design donated $2,500, Black Oak Casino Resort/Tuolumne Band of Me-Wuk Indians gave $1,000, Betsy Hurst Younger donated $1,000 and Clarke Broadcasting donated $1,000.
In addition, $24,000 was donated via the Sonora Area Foundation and its following funds: Irving J. Symons Foundation, Pat & Jim Johnson Family Fund, Dierker/Ferro Fund, Boyd Family Fund, Ron & Ann Patel Family Fund, Charles & Kate Segerstrom Family Fund, Wilson Family Fund, Calestini/Alves Family Fund, Vanier Family Fund, Caldwell Insurance Community Fund, Hope Springs Eternal Fund, Dream Big Fund donated by Shawn & Kimberly Darr, Roger & Judy Haughton Family Fund, and an anonymous fund