Update: Three Home Robbery Suspects Behind Bars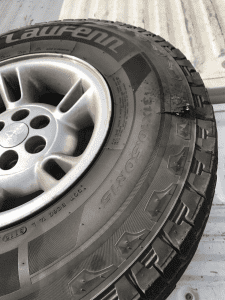 Tire shot out during alleged robbery in Mokelumne Hill Oct 23 2018

View Photos
Update at 3:32pm: Sheriff's officials are releasing more details about the third suspect in an alleged Mokelumne Hill home robbery who eluded capture until this afternoon.
They report that late in the noon hour today, CHP Stockton Unit officers located and arrested 31-year-old Michael Sauve of Lodi in Stockton, adding the release of more arrest details is pending.
According to Calaveras County Sheriff's spokesperson Sgt. Rachelle Whiting, more alleged robbery incident details are as follows. Yesterday morning, following the incident, deputies responded to the intersection of Highway 26 and Campo Seco Turnpike Road in Mokelumne Hill, where the alleged female victim reported her vehicle tire was shot and punctured as she followed robbery suspects from her residence on Jojoba Lane. (The sheriff's office provided a related evidence photo, viewable in the image box.)
The victim told deputies that she woke up to a male suspect inside her house and said he took several hundred dollars along with several other subjects and fled in a green Mustang. According to the report, the victim and another person left the residence and began searching the area for the suspect's vehicle, locating and following it to the area of Highway 26 and Campo Seco Turnpike Road, at which point both vehicles stopped. The victim said the male suspect fired a single shot at her vehicle, striking the tire and rendering it not drivable.
Sgt. Whiting adds that following the "be on the lookout" bulletin release and CHP traffic stop of the Mustang, suspects James Coit, 52, of Mokelumne Hill and Heather Grimes, 36 of West Point (as reported below) were arrested by Calaveras deputies and investigators collected evidence from the scene. The arrested pair, booked into the Calaveras County Jail on charges of burglary, robbery, assault with a deadly weapon, and criminal conspiracy, were both assigned $275,000 bails. Whiting adds that Grimes is additionally facing a violation of probation charge and Coit had an outstanding warrant for his arrest.
The case is still under investigation, so anyone with information should call Calaveras County Sheriff's Office at 209 754-6500 or the Sheriff's Anonymous Tip Line at 209 754-6030.
Update at 12:54pm: Calaveras County sheriff's officials say the fleet-footed third suspect in an alleged armed robbery of a Mokelumne Hill residence was arrested minutes ago.
According to Sheriff's spokesperson Sgt. Rachelle Whiting, the individual, whose name has not yet been released, was taken into custody in Stockton. We will bring you more details shortly as they become available.
Original Post at 12:41pm: San Andreas, CA – Arrest records tie two locals to an alleged armed robbery that happened yesterday in Mokelumne Hill, followed by a vehicle chase and a pursuit of a third suspect on foot.
According to the Calaveras County Sheriff's Office, 52-year-old James Robert Lloyd Coit of Mokelumne Hill and 36-year-old Heather Jean Ausa Grimes of West Point were booked on multiple charges following their arrests yesterday.
The pair was in a green Mustang with a shattered windshield that reportedly sped from the scene of a residential robbery in Mokelumne Hill around 9:30 a.m.
As reported here, a 911 call from the alleged victim triggered the sending of a "be on the lookout" bulletin to area law enforcement agencies. CHP officers located and stopped a vehicle matching the description on Highway 88 in Martell near the 10,500 block.
Third Suspect Fled Through Nearby Field
Although they were successfully able to detain Coit and Grimes in the vehicle, a third suspect bolted and fled on foot into the fields on the north side of the highway. That triggered a three-and-a-half hour lockdown and search of the area, which involved multiple resources, including a CHP helicopter and K9 unit.
While the suspect was not located officials indicate that identification was made, adding that a couple of weapons were recovered from the Mustang. Since there is no official word that the third suspect was arrested, the public should assume that individual is still at large.
Coit and Grimes are charged with felony burglary, robbery, conspiracy, and assault with a firearm on a person. Coit also faces two misdemeanors: unauthorized non-agricultural burning and burning without a permit.
Clarke Broadcasting reached out to the Calaveras County Sheriff's Office for more details and will update this story as more information becomes available.