Trump: Promoting The Supply And Delivery Of Water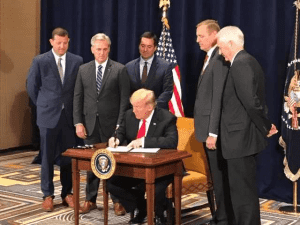 President Trump signs Executive Action on Western Water Oct 19 2018

View Photos
President Trump signed a Presidential Memorandum to promote the reliable supply and delivery of water in the west.
Trump was Monday's KVML "Newsmaker of the Day". Here are his words:
"So this is a big day for the Central Valley, California. And I want to thank everybody for being here. This is a vital action. In my opinion, it's vital to improve access to water in the American West.
What's happened there is disgraceful. They've taken it away. There's so much water, they don't know what to do with it, and they send it out to sea. For decades, burdensome federal regulations have made it extremely difficult and expensive to build and maintain federal water projects. You all know about that.
Millions of Americans in the West depend on critical water infrastructure to irrigate farmland, provide water and power, and support our economy. Some of the best farmland in the world, by the way, can't be used because they don't have water. But they actually have a lot of water.
In a few moments, I will sign a presidential memorandum to dramatically improve the reliable supply and delivery of water in California, Oregon, and Washington.
We are honored to be joined by Majority Leader Kevin McCarthy. Where is Kevin? Come here, Kevin. He traveled a long way to be here. And Representatives Devin Nunes, Jeff Denham, David Valadao, and Tom McClintock. These are tremendous people. They love this country. They love the state. And I appreciate you all being here. Thank you, fellas. This is very important.
And they are the ones that really led this drive because it was — it was so unfair. I was telling the story that I was with Devin, driving up this beautiful highway, and I'm looking at farmland. And it was bone dry. And they'd have a little patch — just a little patch in the corner of such beautiful green. A tiny percentage of this massive area. And then I'd go step further, and you'd see another one. Big, big area. Hundreds of acres. And you'd have just a little patch.
And I said, "Could I ask a question? Do you have a drought? Is there a problem?" "No, we don't have a drought. We have so much water, but they don't let the water come down into the valley and into the areas where you need the water."
And I said, "I've never seen anything — what do they do?" "They route it into the Pacific Ocean." And I say, "Why do they do that?" And the reason — I don't even want to discuss it, it's so ridiculous.
But you have so much water coming from way up north. And you'll have — Devin told me this, numerous people told me this — the best farmland, potentially in the world, if you had water. The land itself — the soil — gives you the best farmland, I've heard, in the world. What that could mean for California and for the economy of California — because you're talking about hundreds of thousands of acres of land where the water is so plentiful and the land is the best there is. So I've heard that from many different farmers.
So today, I'm directing Secretary Zinke and Secretary Wilbur Ross to streamline approvals for federal water infrastructure and to eliminate all unnecessary burdens, significantly speeding up the environmental review and approval process. We will have it done very, very quickly.
We're also speaking to the EPA, and they're all ready to go. As soon as I sign this, they're ready to go.
So the big problem was the federal approvals. They were un-gettable and now they're very gettable. We're going to have them in very fast time because of the gentlemen standing behind me. Nobody else brought it up to my attention; it was them.
In particular, we will resolve the issues blocking completion of the Central Valley Project and the California State Water Project in California. And this will be done within a record period of time. Nobody will ever see anything like this.
Because it's basically been looked at — I don't know if you guys — for years. Tens of millions of dollars have been spent looking at it. But that's all they do; they look. Nobody does anything about it.
The Klamath Irrigation Project in Oregon and the Columbia River Basin in Washington — all of these states benefit tremendously in terms of jobs, in terms of the environment. I think it's important to say "the environment."
Together, we rebuild our water infrastructure. We'll do something that hasn't been done in — how many years has that been since we've done a project like that?
REPRESENTATIVES MCCLINTOCK AND DENHAM: New Melones was 1979.
THE PRESIDENT: Yeah. That's a long time. And this is even bigger. This is a bigger impact than anything they've done, even from 1979. And make our communities more beautiful places to live, and work, and grow. And make them so environmentally incredible.
And so it's a great honor to be signing the new memorandum, and this will move things along at a record clip. And you have a lot of water. I hope you enjoy the water that you're going to have. Okay? (Laughter.) The farmers are going to enjoy it. Great for the farmers. Great for the people. Great for recreation. Great for everything you can think of.
And now, the next time I ride up that road, I think we're going to see a lot of green. It's going to be 100 percent green instead of 4 percent green.
So I'll sign it right now.
(The presidential memorandum is signed.)
THE PRESIDENT: Okay. Very important. And who should get this pen? I think —
REPRESENTATIVE MCCARTHY: Let's give that to Devin.
THE PRESIDENT: I think so, right? I think Devin.
REPRESENTATIVE NUNES: Thank you very much.
THE PRESIDENT: So he'll get the one that I actually used, but I'm going to give the other guys one anyway. (Laughter.) Just don't tell them, okay? All right?
It's funny, I've watched Presidents over the years, and they sign one letter at a time. (Laughter.) One letter. One. And you look at it, and it's really terrible. And so I do it this way. Right? It's a little bit better.
REPRESENTATIVE MCCARTHY: One point I want to make about this: I want to thank the President, because this is just another campaign promise he's keeping. For you, if you're not out West — from Washington, Oregon, to California — water is one of the most critical issues. And the most difficult part of about this — this will streamline. This will bring more water not only to Washington and Oregon, but throughout the Central Valley.
And it is true, this is the best farmland in the world. But the amount of jobs and the ability to keep our food safe. But this could bring more than a million acre-feet of water, just within the valley itself. And this is something all of us have been working a great deal on, especially within your district as well, David.
REPRESENTATIVE VALADAO: Well, in my district, it's not just farm ground. There are actual communities that rely on this water. So some of this water will actually go into homes of people who have been desperately needing this water for a long time. So it affects people in the workplace. It helps put them back to work. But it also helps them live a normal life with a steady water supply for those communities.
So thank you, Mr. President.
REPRESENTATIVE MCCCARTHY: That's the number-one issue you ran on.
REPRESENTATIVE NUNES: Yeah. I mean, this is an issue we've been working on for a long time, Mr. President. So I want to thank you for signing this today. It really is the first time since John F. Kennedy that we've had a U.S. President actually come to the Valley and act on what he said he was going to act on. And so that goes back to the 1960s.
So, Mr. President, thank you. You came out there not once, but twice. You made a commitment in 2016. And, today, he's fulfilling the commitment because we have been overlooked for a very long time in the central part of California, which is the breadbasket of the world.
So thank you, Mr. President.
THE PRESIDENT: Thank you.
REPRESENTATIVE MCCARTHY: Jeff, you've been on this issue.
REPRESENTATIVE DENHAM: Yeah. Taking away our water takes away our jobs, takes away the economy and the largest agriculture industry in the country. But it's also our green power — our hydropower. And the state is trying to double our flows right now and push more water out to the ocean that will just cripple our economy and affect our drinking water.
And so, Lake Don Pedro is also going through FERC re-licensing to make sure that we actually are building and fixing our dams, as well as making sure that we've got that water for the future. So this is a critical help to the entire Valley.
REPRESENTATIVE MCCARTHY: And Tom has been the committee chair, making a lot of the (inaudible).
REPRESENTATIVE MCCLINTOCK: Oh, yeah. Well, I'll tell you what I learned chairing the Subcommittee on Water and Power. Droughts are nature's fault; they happen. But water shortages are our fault; that's a choice that we made a generation ago when we began imposing laws that have made the development of our water resources cost-prohibitive.
This order today and the other actions by this administration, and the bills that have been passed out of the House, move us back toward an era of abundance as the cornerstone of our water and power policy, rather than the scarcity and rationing that two generations of bad laws and bad regulations have imposed on one of the most water-rich regions of the country.
THE PRESIDENT: It's funny, when I met with the farmers — great people. Met with a lot of them. And we were in a group at the end — everybody came together. And I said, "Gee, I feel so badly about the drought that you people are suffering." They said, "We don't have a drought. We have so much water." And I said, "Explain this to me." Then I said, "How did this ever happen?" That was the one thing they couldn't explain: how a thing like this could happen.
So you have tremendous land. And, literally, I have heard, in terms of the land itself, it's as good as it gets anywhere in the world for farming. But they cut off, artificially — I mean, the water used to come down. They cut it off artificially.
So we're going to re-open it the way it used to be, and it's going to be great. It's going to be great for the economy. It's going to be great for the farmers, and for a lot of other reasons. And, I guess, employment, you're talking about a lot — you're talking about a lot of people.
So we're very happy about it, and these are the people that get the credit, not me. They're the ones that brought it to my attention, and very strongly. And Devin was incredible. He was — it took about two minutes to explain. I said, "This can't be possible."
But all you have to do is look at those dry-as-a-bone fields. And then you look at a little patch — the most green, most beautiful thing you've ever seen. The whole thing can be like that. And it's tens of millions of dollars coming into the state of California, and other states.
And we look forward to doing it. It's my great honor.
Thank you very much, everybody. Thank you."
The "Newsmaker of the Day" is heard every weekday morning at 6:45, 7:45 and 8:45 on AM 1450 and FM 102.7 KVML.