Santa's Village Back On Sonora Council Agenda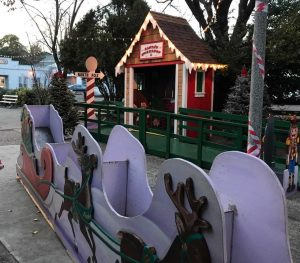 Santa's Workshop at Coffill Park In Sonora

View Photos
Sonora, CA — Further discussion about where to put the popular Santa's Village this Christmas season will take place at tonight's Sonora City Council meeting.
Many residents would like to see it moved from Coffill Park back to Courthouse Park. The complication with Courthouse Park is that the city would now be responsible for any sod replacement/repair work that needs to be done as a result of putting up the attraction following the county's renovation of the park a couple of years ago.
At the last meeting the council indicated a preference to use the park this year as a way of  assessing the extent of any damage and whether it is financially feasible in future years. The local merchants also discussed a willingness to raise money to cover the repair costs in future years.
In other business, the council will vote on closing Washington Street, and adjacent side streets, for the November 23 Christmas Parade.
Today's meeting starts at 5pm at Sonora City Hall.