Brown Signs Some New Gun Laws And Vetoes Others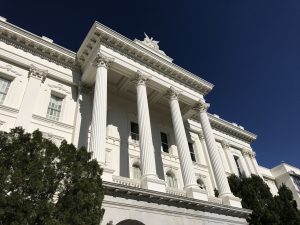 California State Capitol Building

View Photos
Sacramento, CA — Governor Jerry Brown signed new gun laws, but also denied some that he feels are unnecessary.
Brown put his signature on a new law that will require Californians to undergo at least eight hours of training, including live fire exercises, in order to carry a concealed weapon. In the past, California law has allowed sheriffs and police chiefs to require up to 16 hours of training before issuing a permit, but there was no minimum training requirement, leading to different rules in different jurisdictions.
Brown also signed a bill clarifying that rapid fire so called "bump-stocks" are illegal in the state.
Brown vetoed a bill that would have expanded a 2014 law that gives family members the ability to request that a judge remove firearms from someone that poses a threat. A bill that passed in the legislature would have expanded it to mental health workers, school employees and colleagues. The Governor stated in his veto message that people can seek restraining orders related to guns instead by working with family members or law enforcement.
He also vetoed a bill that would have created a state system so that suicidal people can register themselves on a list so that they are banned from buying guns.