CA Superintendent Heaps Praise On Tuolumne County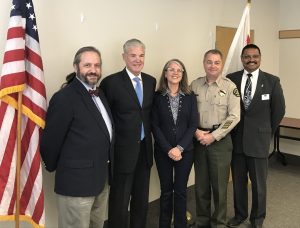 Jim Garaventa, Tom Torlakson, Margie Bulkin, Bill Pooley and Santanu Bandyopadhyay

View Photos
Sonora, CA — California's top school official Tom Torlakson says he is impressed how various local leaders and groups work together to find solutions that help the students of Tuolumne County.
Torlakson spoke before a panel of 25 this morning at the Tuolumne County Superintendent of Schools Office in Sonora. Others who addressed the room were Tuolumne County Superintendent Margie Bulkin, Tuolumne County Sheriff Bill Pooley, Columbia College President Santanu Bandyopadhyay and Sonora Mayor Jim Garaventa. Much of the talk focused on the overall idea of teamwork and cooperation to help students.
Torlakson told Clarke Broadcasting afterwards that he came to hear about local challenges facing education leaders and what is working well in the county. He added, "Superintendent Bulkin has done an incredible job here and over the months she has been telling me that I have to come and see the outstanding students throughout the county, see how they are achieving so well academically, and to see the local partnerships. The team that is being built here is just fantastic. It is a role model for the rest of the state in terms of how to overcome challenges by working together."
Torlakson added, "The issues that Tuolumne County faces are similar to the challenges across California, but the rural and small counties can have a different set of challenges that can sometimes be bigger and harder to overcome. What we are seeing in Tuolumne is leadership that is overcoming things like isolation, and other barriers, and building a strong team for kids."
After the 45-minute meeting at the county schools office Torlakson headed for Summerville High School where he will receive a campus tour, then hear presentations from students at the school library, and later take part in a question and answer session in a 12th grade government class.
Torlakson served in the California Assembly and Senate prior to being elected in 2010 to be the state's Superintendent of Public Instruction.