Empty Bowls Hopes To Help End Hunger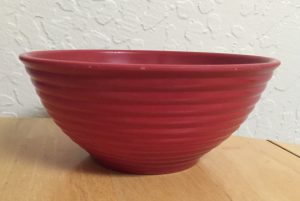 Soup Bowl

View Photos
Come and enjoy a simple meal of soup, salad, bread and dessert at the ATCAA Food Bank Warehouse in Jamestown, on Saturday September 29th.
Deni Avery, ATTCA Food Bank Director, was Friday's KVML "Newsmaker of the Day".
"Empty Bowls is internationally recognized as a reminder of the hungry among us," said Avery. Participants will be able to take home a handcrafted bowl representing a family, a child, a senior, a student or someone who is feeling hopeless and hungry."
The evening meal event will be held at the warehouse at 10059 Victoria Way in Jamestown.
Music will be provided by Summerville High School's Jazz @ 8.
Attendees will also find a no host wine & beer bar, participate in an auction and see the Food Bank Warehouse.
The ATCAA Food Bank relies on Federal funding through the Community Development Block Grant (CDBG) as well as donations and volunteers from the community. This year, Federal funding was cut in half.
"We are relying on the community more than ever before," says Avery. "Our entire operation is now run by a few staff members and thankfully, hundreds of volunteers. Though funding has been cut, the need continues to grow.
The Food Bank collects, warehouses, sorts and then distributes food to local pantries throughout the county, who in-turn, provide food to those in need. The Holiday Baskets are distributed directly to local families.
For more information call Avery at 209-984-3960, x104 or visit the Food Bank on the ATCAA website at atcaaevents.org
The "Newsmaker of the Day" is heard every weekday morning at 6:45, 7:45 and 8:45 on AM 1450 and FM 102.7 KVML