Sonora Council To Discuss Popular Christmas Attraction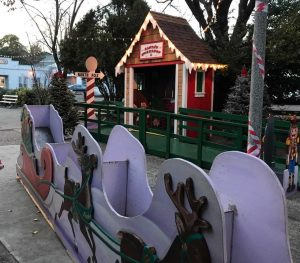 Santa's Workshop at Coffill Park In Sonora

View Photos
Sonora, CA — The Sonora City Council will discuss a few new items this evening, including where to place a downtown attraction during the holiday season.
The council will talk about the location of Santa's workshop this December. Last year it was located in Coffill Park, but some downtown business owners have asked the city to investigate the possibility of returning it to the former location in Courthouse Park. The county has indicated that it would allow the city to use Courthouse Park, provided that any damaged turf during the season be replaced. The estimated cost to do so could be $3,500, and the city does not have that money in its budget. The attraction was relocated from Courthouse Park following an overhaul project that was completed there. An alternative location, due to its visibility and location, could be Jackson Street. However, it would require the transit system to temporarily relocate its bus stops. The various locations will be discussed. The argument made against Coffill Park is that it is too far off the beaten path and not visible from Washington Street.
The council will also hear an annual report from Tuolumne County Visitors Bureau Executive Director Lisa Mayo, and vote  on the closure of Washington Street for Sonora High School's October 12 homecoming parade. Tonight's meeting will start at 5pm at Sonora City Hall.