Burglars Ransack Home Causing Thousands Of Dollars In Damage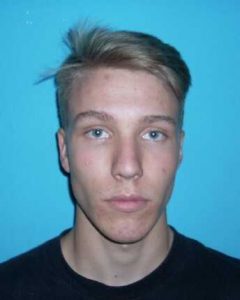 Cameron Walker

View Photos
Sonora, CA – The burglary may be linked to a suspect arrested earlier this week when Tuolumne County Deputies found a minivan with several guns and other stolen items inside.
Deputies were called to a home on White Oak Drive in Sonora on Monday for a report of a burglary. The home was ransacked with clothes thrown about, furniture knocked over and drawers emptied on the floor. Sheriff's spokesperson Sgt. Andreas Benson tells Clarke Broadcasting that multiple items worth over $12,300, including televisions, gold coins, cash, medication, a shotgun and revolver where all taken. The thieves did not stop there. They continued their destruction by spray painting multiple walls, doors, picture frames, and floors to a tune of more than $2,000 in damage.
Earlier that day, as reported here, deputies had arrested 19-year-old Cameron Walker after Cedar Ridge residents called in reports of gun fire and seeing a minivan that sped away right after the shots. A deputy found the vehicle, occupied by Walker and another man, and searched it finding stolen items and a gun inside. Sgt. Benson details that several of the items may be related to the burglary, which makes Walker a prime suspect in that crime.