Weekend Events Mid-September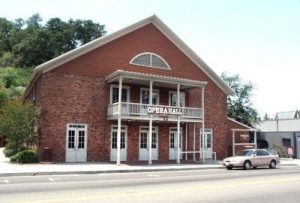 Sonora Opera Hall

View Photos
This weekend is packed with a variety of events. Friday through Sunday at the Mother Lode Fairgrounds in Sonora is the Sierra Quilt Show featuring many quilts, exhibits, vendors, and food.
As reported here Saturday is the annual 49er Festival and Chili and Salsa Cook-off will take place this Saturday. There is a 7AM pancake breakfast at the Groveland Community Center, then an 1849 reenactment of a gunfight, followed by the parade at 9 AM featuring the Orange Crush Band from Summerville High School.
There is still time to get tickets for Sonora's Golden Regiment Band fundraiser Saturday morning. Details are here.
Also Saturday morning, California's largest volunteer event, the Great Sierra River Cleanup, has two local projects for volunteers to participate in. This is the 2nd annual cleanup event along Sullivan Creek. Participants should arrive by 8:30AM Saturday at the Peppery parking lot near the Mono Way bridge crossing of Sullivan Creek. Trash and graffiti will be removed along a 1/2 mile stretch of the creek, contact information and details are here. The project is sponsored by the Tuolumne County Land Trust, a non-profit organization working to protect special places. New Melones will also have a clean up event, as detailed here.
Saturday is the Big Dreams organization's Starry Night fundraiser. As reported, the playground remains unfinished, and in need of further funding. The event listing is here.
The Word Of Life Fellowship Hall in Mi-Wuk is hosting a dinner, dance, live music and a silent auction to support the Lighthouse ministry, their food pantry and community dinner, based out of the Red Church in Sonora. Details are here.
The G.N.A.T. P.A.C. (Geeks, Nerds, Artists and Thespians of the Performing Arts Center) at Calaveras High School are proud to present "Help Us, Mr. Holmes" Friday, September 14th through the 16th at the Calaveras Performing Arts Center. Ticket information is here.
Mousetrap by Agatha Christie, directed by Mari Shineis is being performed by the Murphys Creek Theater. Opening week was last weekend and performances continue through September 30 on weekends.
Sierra Reperatory Theater is performing Baskerville: A Sherlock Holmes Mystery
at the Fallon House Theatre in Columbia.
Saturday at the Westside Pavilion catch Big Head Todd & The Monsters, The Gin Blossoms and Tonic. Sunday, Boy George and the Culture Club and the B-52s are at Ironstone.
Sunday from 4 – 6:00 PM in the Sonora Opera Hall will be the Constitution Day Celebration and Poster Contest hosted by Liberty Institute USA a local non-profit. Guests will experience a Colonial theme celebrating the adoption of the Constitution with prizes for those who come in Colonial-era costume. A Colonial dinner will be served at 6:00, more details are in the event listing here.
Sunday is the 46th Annual Columbia Fine Art Show sponsored by the Columbia Chamber of Commerce. Over 45 artists will be displaying their paintings, pottery, photography and sculpture on the beautiful, shady streets of Columbia State Historic Park. Details are here.