Groveland's 49er Festival And Chili Cook-off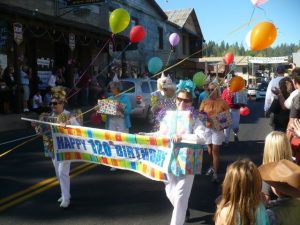 Groveland

View Photos
It is the largest annual event of the year in Groveland. The annual 49er Festival and Chili and Salsa Cook-off will take place this Saturday.
Tom Hernandez with the Yosemite Highway 120 Chamber of Commerce, was Wednesday's KVML "Newsmaker of the Day".
Saturday's events begin in Groveland at 7 AM with a pancake breakfast at the Community Center, followed by an 1849 reenactment of a gunfight in the streets at 8:45 and then the community parade will take place on Main Street (Highway 120) beginning at 9 AM. One of the highlights each year is the visiting Orange Crush Band from Summerville High School.
After the parade, most of the events will move to Mary Laveroni Community Park with music, vendor booths, kids activities, wood carvings, classic cars, beer, wine, the famous chili-cook-off and other food choices. The event comes to an end at 5 PM.
A mixture of events earlier this year proved to be economically difficult for Groveland, which relies heavily on tourism. This was mostly due to the heavy rain storm which created a torrential river through downtown Groveland last March followed by the nearly three week closure of Yosemite National Park earlier this Summer, due to the Ferguson Fire.
According to Hernandez, tourists have returned and the entire community is ready to welcome visitors to the town for this Saturday's events.
For more information regarding the '49er Festival, Chili and Salsa Cook-Off, log on to http://www.groveland.org/
The "Newsmaker of the Day" is heard every weekday morning on AM 1450 and FM 102.7 KVML at 6:45, 7:45 and 8:45 AM.