Update: Public Safety Order Closure Issued On Boot Fire, Highways Reopen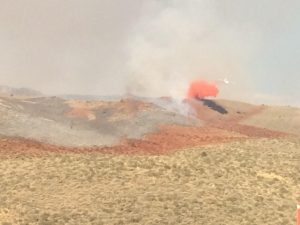 Boot Fire

View Photos
Update at 1:30 p.m.: Citing public health and safety, forest service official from the Humboldt-Toiyabe National Forest have issued a closure order within and around the burned area on the Bridgeport Ranger District. The immediate closure, shuts down areas to the public that are not safe to enter because of firefighter suppression efforts. It will remain in effect until the area is determined safe for the public
The exact area are provided below by the Forest Service:
The Public is advised to avoid National Forest System lands north of California State Route 108 from Sonora Bridge to the Junction of U.S. Route 395, north of Route 395 from Sonora Junction and Pimental Meadows, west of Swauger Creek due north to the junction of Forest Roads 067 and 089, from that junction due west to the junction of Burcham Flat Road/Forest Road 031 at the Forest Boundary, east of Mill Canyon Road due south to the junction Terry Canyon Road. From that junction, the closure includes Mill Canyon Road (Forest Road 042) and NFS lands to the east to Route 395. The closure continues due south on Forest Road 023 to Sonora Bridge. (See map in image box for exact boundaries).
Further details on the fire, road conditions and suppression efforts for today are below.
Original post at 1 p.m.: Mono County, CA – Caltrans has reopened two Highways shut down by the Boot Fire earlier this week.
The blaze remains 6,873 acres and 3-percent contained with 30 structures threatened. Highways 395 and 108 were opened at 8 p.m. last night in time for weekend travel. Incident Command notes that while most rocks and tree hazards have removed from the roadway, travelers need "to proceed with extreme caution through Walker River Canyon and along Highway 108 as additional debris could roll onto roadways." Additionally, drivers are asked to slow down as it is still an active fire area with plenty of fire crews and equipment moving about the area.
Incident Command reports that on the southeast flank near Swauger Creek, helicopters have dropped extensive retardant to prevent a finger fire from pushing northeast. Other smaller hotspots detected on an infrared image along the eastern edge of the finger are also being attacked today by helicopters and ground crews to prevent spread. The tip of this eastern finger is about a mile north of Devil's Gate.
Just east and above the Walker River, a dozer will be completing containment line today. Firefighters plan to use this line to bring a section of fire back into itself to create a more secure containment line. That operation will implement Sunday evening when the weather is cooler and winds are calmer. Fire officials share, "This area is very important to contain, as firefighters do not want the fire to move to the northeast where it could become more problematic. This area is steep, rugged and difficult to access, so firefighters are working cautiously."
On the western flanks, hand and helitack crews are constructing a direct containment line along the ridgelines. Due to the high elevation and thick timber it requires time and patience to complete, according to fire officials. Ground and air resource are working to extinguish a fire finger southwest of Bootleg Canyon and east of Grouse Meadows.
Dozer and hand lines along with natural barriers are being used by firefighter on the southern flank to extinguish and monitor the fire there.
Currently 575 fire personnel remain on the scene. There are 18 hand crews, 7 helicopters 26 engines and 9 dozers. Mandatory evacuation orders remain in place for Fales Hog Springs, Devil's Gate Pass, Swauger Creek and the Marine Corps Mountain Warfare Training Center.