Latest Efforts To Combat Homelessness In Tuolumne County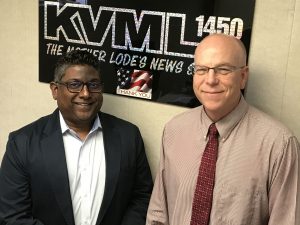 Raj Rambob and Steve Boyack

View Photos
Sonora, CA — The most recent figures show that at least 700 residents are living homeless in Tuolumne County, and local leaders are looking into ways to curb problem.
This weekend's Mother Lode Views will feature Amador-Tuolumne Community Action Agency (ATCAA) Director Raj Rambob and Tuolumne County Assistant Human Services Director Steve Boyack. Earlier this year the city of Sonora coordinated a homeless task force, but the realization was made that the city cannot address the issue on its own, and the desire was to create a larger conversation.
Rambob and Boyack will talk about some developments over recent weeks and the possibility on the horizon for receiving state funding.  They will also speak about working with surrounding counties, and the challenges to finding solutions.