Caltrans Signals Upcoming 24/7 Closure On Highway 132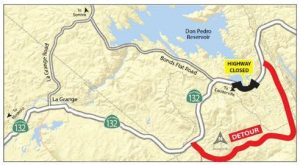 Caltrans Highway 132 Closure

View Photos
Sonora, CA — Following the Labor Day holiday motorists will be dealing with a month-long complete closure of a Mother Lode highway stretch near Lake Don Pedro.
According to Caltrans officials, post-storm repairs to a failing underground culvert located about a mile-and-a-half east of Bonds Flat Road and a mile west of Merced Falls Road were deferred until after the summer tourism season. The damage occurred during the late-March "atmospheric river" event. As reported here, another segment of Highway 132 near La Grange was recently closed for a week for a similar reason.
The closure is scheduled to start at 5 a.m. on Wednesday, Sept. 5 and continue until the project is complete, probably on or before 5 p.m. Friday, Oct. 5. During this time, posted detour signs will guide travelers through a loop around the work zone.
Those headed east on Highway 132 will turn right on Hayward Road, left on Ranchito Drive and then left again onto Merced Falls Road to get back to the highway. Westbound motorists will bear left on Merced Falls Road, then turn right at Ranchito Drive and again onto Hayward Road.
Nearly round-the-clock, ten-minute delays are also in store due to another Tuolumne County project on Highways 49/108 and 120. Part of a plan to repave a 34-mile stretch, the work began back in April in eastern Stanislaus County at Lancaster Road. The resurfacing scope includes the Highway 49/108 junction as well as the Moccasin Creek bridge on Highway 120.
To view maps of both project locations, click into the image box slideshow.