Mother Lode Highway Stretch In La Grange Area Now Temporarily Closed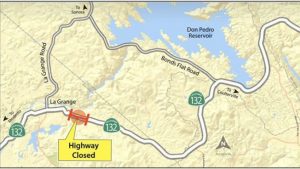 Caltrans Hwy 132 Closure Aug 20-25 2018

View Photos
Sonora, CA — Heads up anyone planning on using Highway 132 in the La Grange area to travel this week: part of the roadway is now closed and will remain so through early Saturday.
According to Caltrans District 10 officials, the full 24/7 highway closure is due to a necessary culvert repair. The culvert itself, damaged during the March storms, is located about a mile east of La Grange and approximately three-and-a-half miles west of the Stanislaus/Mariposa county line. Officials explain that they delayed the work until now to minimize impacts on the summer tourism season.
The project, estimated to cost $300,000, involves replacing the damaged culvert with a 36-inch wide, 70-foot long reinforced concrete pipe, which requires digging across the entire highway. The contractor assigned to the work is Waterford-based Hensley's Paving & General Engineering, Inc.
Until the crews are finished, probably sometime around 5 a.m. Saturday, motorists should anticipate trip delays of about a half-hour while using the detours in place, which utilize La Grange and Bonds Flat roads. To view an area map, click into the image box.