September Highway Projects On 108, 120, 49 And 4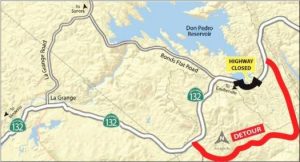 CalTrans HWY 132 detour

View Photos
Caltrans has released its contracted work as scheduled for Mother Lode highways this week, they start later in the week in observance of the Labor Day Holiday.
Caltrans will be doing pavement work on HWY 108 from Via Este to Sunshine Road  before the Soulsbyville turn-off. One-way traffic control from Tuesday through Friday from 7:30AM to 3:30PM expect to add 10 minute delays to trips through the area.
Improvements of Highway 49 from just outside Downtown Sonora, at Pesce Way, to the Stevenot Bridge over New Melones at the County line will have crews causing 10 minute delays. The work this week is focused on the traffic signal at Parrotts Ferry road and is scheduled from Wednesday through Friday from 10PM to 6AM.
Pavement work that began in April, and is expected to finish in October 2018, continues beginning Sunday. The night shift is from 7PM until 5AM and day work is from 6AM to 6PM work ends Friday at 3PM. Night work will focus on the area from Green Springs Road to Red Hill Road and day work from Mountain Bluff Road to Moccasin Creek Bridge Tuesday though Friday.
Drainage cleaning and inspection work on HWY 108 from Herring Creek Road to Beardsley Reservoir Road may delay travelers 10 minutes Tuesday through Friday from 7:30AM to 4PM.
Details on a HWY 132 road work closure are here.
Calaveras Projects
Tuesday through Friday Highway 4 will be limited to one lane from Cabbage Patch Maintenance Station to the Calaveras/Alpine line Murphys for drainage work causing 10 minute delays between 8AM to 3PM. More drainage work Wednesday through Friday will limit HWY 4 to one lane from Upper Moran Road to Big Trees Park with delays between 6AM and 6PM.
On HWY 49 from the Rest area near Carson Hill to Redhill Road crews will be working on the road's drainage on both sides of the road all week. Also on HWY 49 from Whittle Road to Gun Club Road, one-way traffic restrictions will be in place for utility work, scheduled from 7AM to 7PM Wednesday and Thursday.
On Highway 26, drainage work from Hogan Dam Road to Nove Way and from Pine Street to Winton Road on the left shoulder will impact traffic Tuesday through Friday.