Governor Signs Forestry Bill To Reduce Hazardous Fuels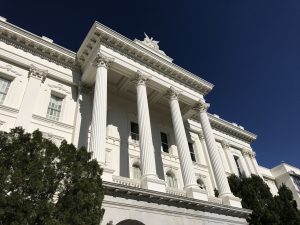 California State Capitol Building

View Photos
Sacramento, CA — A bill signed at the state capitol will extend a pilot program that allows landowners who are clearing defensible space to sell the wood they cut down without doing a timber harvesting plan.
Republican Assemblyman Jim Patterson introduced the pilot program in 2014 as way to create a financial incentive for those wanting to make their land more fire resilient. A timber harvesting plan can cost up to $45,000 to develop.
Assembly Bill 1954, the extension of the program through 2022, was signed this week by Governor Jerry Brown.
Kieran O'Leary, President of the California Licensed Foresters Association, says, "With foresters and landowners becoming more familiar with this program, we can expect to see this exemption being used more frequently, which will result in safer working conditions for firefighters. AB 1954 is smart legislation that continues a program that reduces hazardous fuels without the need for grants or bonds that further burden California's taxpayers."
The bill was also supported by the California Chamber of Commerce, Forest Landowners of California and the California Licensed Foresters Association.