Details Released On Major Highway 120 Crash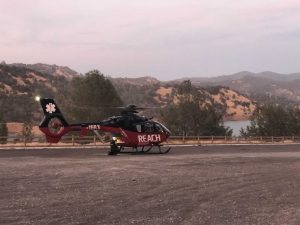 Crash on Highway 120

View Photos
Don Pedro, CA — The CHP has released information about what led up to a crash that resulted in four people being flown by air ambulances to hospitals outside the area.
The CHP reports that 55-year-old Edward Katen of Copperopolis was traveling west in a Chevy van on Highway 120 on the James E. Roberts Bridge west of Jacksonville Road. 43-year-old James Sayer of New Zealand was driving a Dodge van and turned from the Don Pedro Reservoir Vista Point onto Highway 120 into the eastbound direction. However, Sayer was custom to driving on the opposite side of the road, and collided with the front of Katen's vehicle. Katen was pinned into his vehicle and had to be extricated by fire personnel. Sayer and his passengers were able to exit prior to the CHP's arrival.
Katen was flown to Memorial Medical Center in Modesto to treat major injuries. Sayer was flown to Doctors Medical Center, also to treat major injuries. A passenger in Sayer's vehicle, 37-year-old Helen Celia, also of New Zealand, was flown to Memorial Medical Center to treat moderate injuries. A third person inside, a three year old boy, was flown to UC Davis Medical Center to treat minor injuries. The crash occurred at 6pm.