Doors To Open At New Sonora Dealership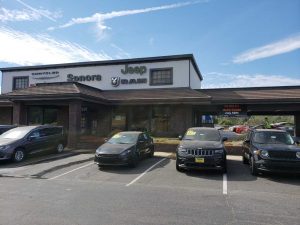 Site of the new Sonora Chrysler Dodge Jeep Ram dealership

View Photos
Sonora, CA — It's official, a Chrysler Dodge Jeep Ram dealership will open in the building that housed the former one on Mono Way – boosting Tuolumne County's economy through sales and service taxes and new jobs.
As Clarke Broadcasting reported here last month, a deal was in the works with just some final paperwork needed to make it a reality. Today, the Tuolumne County Economic Development Authority announced that the doors of the Sonora Chrysler Dodge Jeep Ram dealership will open October 1st where the former Chrysler site on Mono Way shut down last year.  The new Owner, Leonard Harrington, who also runs the Lodi Chrysler Dodge Jeep Ram dealership, reveals how this all came about. "After the dealership closed, I was contacted by the Chrysler Corporation and they asked if I was interested in opening up a spot in Sonora," states Harrington. He adds, "I looked into it and the community and did a little research and here we go!"
Harrington relays that his company bought all the assets of the former dealership, which included the long abandoned vehicles on the lot, from the bank. He remarks that those are currently being sold off while the new dealership will offer 200 new and used automobiles. Harrington also projects that within the next few years the dealership plans to create an estimated $40 to $50-million in sales and service. His Lodi dealership makes around $96-million yearly. TCEDA Director Larry Cope remarks, "On the economic side of things, it's a great use of a former building. It's also an investment into the community and we're also capturing sales and service taxes from the individuals who come and buy their cars here and have them repaired at the dealership."
The new auto center will also bring about 15 to 18 new skilled and semi-skilled jobs to the county to begin with, according to Harrington, who indicates that number could grow as high at 25. He details that the range in pay will run from $15 an hour to $100,000 plus. The dealership is currently hiring for all those positions and anyone interested in applying is asked to call 209-263-3999.
Calling the Tuolumne County "truck and jeep country," Harrington says he is excited for the opportunity, sharing, "I know a little bit about the history of Chrysler dealerships in Sonora, I think that the community has been under served and it's a great community, it's growing, and we're looking forward to becoming part of it."