California Ends Cash Bail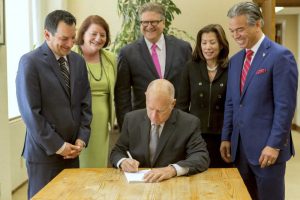 Governor Jerry Brown signs SB 10 eliminating bail in the state

View Photos
Sacramento, CA — With the signing of SB 10 into law by Governor Jerry Brown today, the state is the first in the country to eliminate the bail process and replace it with a risk based system.
"Today, California reforms its bail system so that rich and poor alike are treated fairly," stressed Governor Brown.
Brown's signature allows the state's Judicial Council board, which creates rules and procedures across the state, the authority to reshape pretrial detention policies. In turn, each county will use the council's outline as a basis to set its own procedures for requirements to release a suspect before trial. That could potentially create a patchwork system based on where a suspect lives.
Authors of the bill, Senator Bob Hertzberg (D-Van Nuys) and Assemblymember Rob Bonta (D-Oakland), acknowledge that it is a work in progress. Key provisions under the new law require most suspects arrested for nonviolent misdemeanors will be released within 12 hours of being booked. Those not eligible for pretrial release will be offenders facing serious violent felonies. Additionally, officials have 24 hours to determine whether other suspects should be released before trial, which can also be extended by 12 hours if necessary.
Supporters of the legislation include the Judicial Council, which is headed by the state Supreme Court's chief justice. There is concern voiced by some criminal justice reform advocates that worry defendants will spend weeks in jail while their lawyers try to prove they deserve to be set free. Opponents' arguments range from fear that the legislation gives judges too much power to worry that dangerous suspects will walk out the door never to return for trial.
New Jersey and New Mexico have overhauled their bail systems as well, although neither state has completely eliminated the money aspect. California's new law will take effect in October 2019.