'Reboot' Targets Recouping Tourism Losses Due To Fires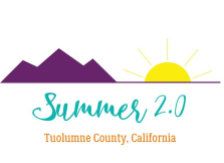 Tuolumne County Summer 2.0 Tourism Campaign logo

View Photos
Sonora, CA — Summertime, usually peak tourist season for the Mother Lode and most parts of California, got smoked out of about $28 million, officials say, a significant impact they are now working to reduce with a "Summer 2.0" tourism push to entice more visitors here through the fall.
"We have been amping up our advertising…it is definitely targeting the Bay Area/"Tri Valley" and Central Valley and we have tons of events coming up for Labor Day — so we think that the tourism for [the holiday weekend] should be good," confides Katie Kirkland, Tuolumne County Visitors Bureau (TCVB) communications and tourism manager.
"Summer started out really great and we definitely saw a little wilt due to the [Ferguson and Donnell] fires and…our highways closing, but we are definitely working to bring tourism back," she continues. She adds that her office anticipates tourism number increases this holiday weekend through November, weather and fire conditions permitting.
Out And About Over The Labor Day Holiday
Among the highlights this weekend are the Strawberry Music Festival at Westside Pavilion, the Twain Harte Concerts in the Pines and Harte Rod Car Show. Horseback riding is ongoing both at Aspen and Kennedy Meadows. For more ideas, click here.
To help fuel more outside interest, she says that TCVB's advertising outreach has included more marketing in the form of banner ads on the Visit California and Sunset (magazine) websites as well as increasing Facebook ads. On the public relations side, efforts have focused on working with media, particularly social media influencers, in ways that visually share what various areas of the county are looking like right now.
Related recent activities involving influencers like travel bloggers, who have been allowed to do a "social takeover" of TCVB's Instagram channel, have resulted in more than doubling user views. Kirkland reports that it has also triggered queries such as "wow, where is this place?" demonstrating kindled interest.
Locally, Kirkland and her colleagues encourage locals to embrace opportunities to be "hometown travelers." After all, by checking out parts of the county never before or seldom enjoyed, residents can play a part in revitalizing local business while at the same time reawakening an appreciation for the region we get to call home.