Update: Air, Ground Resources Called To Sonora Vegetation Fire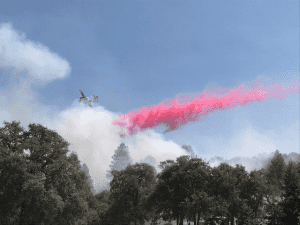 Vegetation Fire near Columbia Airbase Aug 27 2018

View Photos
Update at 1:41pm: Forward progress has been arrested on a vegetation fire in the 22300 block of Bennett Road near Chili Gulch Road.
According to CAL Fire spokesperson Lindy Shoff, a structure that was under threat at the beginning of the incident, which broke out around 1 p.m., is no longer endangered. Columbia aircraft have returned to airbase as ground units continue working to bring the blaze to full containment and then mop up. At last report, the size of the fire was a half to three-quarters of an acre.
Original Post at 1:23pm: Sonora, CA — If you hear planes overhead, Columbia is among the resources responding to a report of a vegetation fire near Columbia airbase.
The location is described as in the 22300 block of Bennett Road in Sonora, near Chili Gulch Road. According to CAL Fire officials, the fire is about a half-acre in size with no containment and threatening one structure. We will provide more details as they come into the news center.
Clarke Broadcasting thanks community news partner Karen Luckhardt for her incident photos. Images and video can be sent to news@clarkebroadcasting.com.