Donnell Fire Helicopter Makes A Crash Landing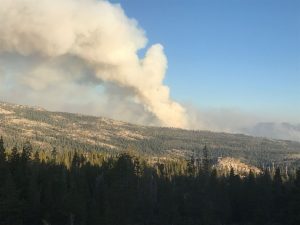 2017 Donnell Fire

View Photos
Stanislaus Nation Forest, CA — Forest Service officials confirm to Clarke Broadcasting that a helicopter made a crash landing at a helispot in the blaze's perimeter on the southwest side this afternoon. More details in a timeline about the Donnell Fire is here.
Forest Service spokesperson Kate Kramer reports that the Medium Type 2 helicopter with a water bucket that was on a water dropping mission made the emergency landing around 3:45 p.m. Luckily, the pilot, who was the only one on board the aircraft, walked away from the chopper with minor injuries. Exactly what those injuries where Kramer did not know. The pilot was treated by paramedics on the scene. Although the pilot's family has been contacted, his name and unit is not being released, according to Kramer, who would only confirm it was a Forest Service contracted helicopter. No one on the ground was hurt.
What forced the pilot to make the hard landing is under investigation. The National Transportation Safety Board has been notified of the crash. Kramer shares that there was damage to the chopper, but she does not know the extent.