State Water Board Delays Decision On Increasing Water Flows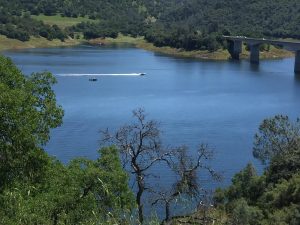 New Melones Reservoir

View Photos
Sacramento, CA — Citing the "complexity and sensitivity" of the issue, the State Water Resources Control Board has delayed a vote until at least November on increasing flows from some Sierra Nevada waterways.
We reported earlier that Congressional leaders like Tom McClintock and Jeff Denham, Interior Secretary Ryan Zinke, and local county supervisors have voiced opposition to the proposed 40-percent un-impared flow standard between February and June. They argue that it will have a big impact on recreation opportunities at areas like New Melones Reservoir and impact water supply. The change would impact the lower San Joaquin River and its tributaries, the Stanislaus, Tuolumne and Merced rivers.
A rally was held in opposition on Monday outside the state capitol, and at a meeting this week, hours of testimony was delivered by around 150 people. By delaying a decision until November 7, the State Water Resources Control Board will have more time to weigh and consider the information presented. The board argues that it is trying to balance competing beneficial uses of water, including agriculture, municipal use, recreation and fish and wildlife. At the November meeting the board may approve the plan, scrap it, or make alterations.