Mother Lode Lawmakers Join 'Water Grab Rally' Protesters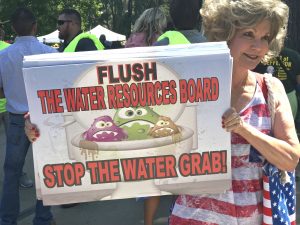 Protesters in Sacramento at Water Rally Aug 20 2018

View Photos
Sonora, CA — A massive turnout of Californians, some from the Mother Lode, showed up to protest state water regulators' plans to allocate significantly more water for fish flows.
Monday's "Water Grab Rally" on the north steps of the State Capitol in Sacramento kicked off at high noon. It was scheduled to happen a day ahead of a previously scheduled two-day public hearings period that is still happening. However, the Water Board, which originally hoped to push through its final plan to seek at its discretion 40 to 60 percent unimpaired flows from three rivers including the Stanislaus, has postponed the vote in the wake of local, state and even federal uproar, as reported here.
Along with losing so much additional water for multiple beneficial purposes, generating billions in economic losses downstream, reverberating impacts would locally hit home, such as by rendering New Melones reservoir mostly useless for recreation and long-term storage.
Mother Lode Lawmakers Unload 
Federal, state and local officials and a spectrum of stakeholder groups turned out to chant, wave signs and hear from various speakers. Among Mother Lode officials on hand were Tuolumne County supervisors Karl Rodefer and Randy Hanvelt, who shared their impressions of the rally with Clarke Broadcasting.
(Note: They and Oakdale Irrigation District General Manager Steve Knell also shared photos you can view by clicking into the image box slideshow. Knell estimated the crowd size as over 2,000 although he heard another estimation at 1,500 or so. One photo that Rodefer captured was of the counter protest, which he described as an assembly of about a dozen people from the Sierra Club.)
"There is a groundswell of people who are saying 'stop this stuff — this is not a solution — it is based on bad science, ignoring the…real science'," Hanvelt recounted. Asked to describe the protest groups, he replied, "There was a real cross-section of people there. They were not 'Democrat' or 'Republicans' — they were Californians." He adds that stakeholder presences included agricultural groups, representatives from cities like San Francisco and Los Angeles, contingents from mountain communities, the Central Valley, and northern areas above Shasta.
A Call For Better Alternatives
California Farm Bureau Federation spokesperson Dave Kranz shared, "What was striking about the rally is that while the [current] plans would affect only the watersheds  of the Stanislaus, Tuolumne and Merced rivers…everyone realizes that this effort…will eventually spread to other watersheds in other parts of the state." He emphasized,  "Everyone realizes that this is a very important situation that needs to be resolved — and we hope that the board will look at other alternatives that will achieve the same goals without taking so much water from other peoples' use."
Assemblymember Adam Gray, who was a key organizer behind the protest event, noted that public pressure has been building on the Brown Administration for months to shelve the Water Board's plan and instead work in cooperation with the wide-ranging stakeholder groups. "Communities throughout the state are taking notice…and calling foul on the state's sorry excuse for a plan. If regulators would admit their current proposal relies on unfounded selective science, they would see that there are balanced alternatives which offer really environmental benefits without decimating local communities," he maintained.
He added, "Despite their misguided plan, irrigation districts and water rights holders remain at the table willing to negotiate voluntary settlements. The only alternative to reasonable settlement is a decade's worth of litigation. While that might make the lawyers happy, it will do nothing to improve environmental conditions. The choice is simple."