Property Tax Relief For Victims Of Wildfires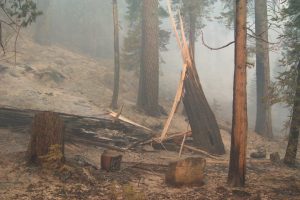 Donnell Fire Impacts

View Photos
Tuolumne County Assessor-Recorder, Kaenan Whitman has stated that there may be some property tax relief offered for property owners affected by wildfire disaster.
Whitman was Wednesday's KVML "Newsmaker of the Day".
According to Whitman, "Any property owner who suffers $10,000 or more due to a disaster or calamity may receive temporary property tax relief until the property is restored. This tax relief is available to anyone who has experienced a calamity such as an electrical fire or flooding. It is not limited to just wildfires. To receive disaster relief for property taxes you must complete our Disaster Relief form and turn it into our office. To get this form you can either download it off of our website or call our office at 209-533-5535 and we will mail the form to you."
When asked what some of the recent inquires have been from Tuolumne County homeowners, Whitman responded, "We have been receiving a lot of phone calls from people who are curious about downsizing their home. They wish to sell their home and move into a home that may require less maintenance but are afraid they will see a large increase in their property tax bill. The good news is that our county has adopted prop 90 and Prop 60 which allows any homeowner in California who is 55 and older to transfer their tax bill from their old home to their new home as long as they qualify."
So, what must one do to qualify?
"To qualify the applicant must be 55 or older, they must sell their old home for more than what they purchase their new home for and the sale and purchase must happen within 2 years of each event," said Whitman.
Whitman continued, "We have recently had several questions from property owners asking if they install solar systems on their homes will their property taxes go up. Their concern is that if the cost of the new panels were added to their property tax assessment then much of the savings would eaten up by the increase in property taxes. The simple and straightforward answer is that there are no assessment increases for newly constructed, or addition of any active solar energy system."
As for tax tips, Whitman offered, "There is one that all homeowners who own the home that is their primary residence qualify for, and that is the Homeowners exemption. If you quality and return the homeowners exemption to our office it will lower your property tax bill by a little over $70 each year. Plus all you have to do is fill the form out once and this exemption will stay with you until you sell the home or notify our office that you are no longer living there."
When noted that he just won re-election in June, Whitman concluded with, "I would like to thank everyone for their support and I would like to say a special thank you to our staff. I am blessed and the county is blessed to have such terrific people working the in the assessor-recorder-archive departments. I constantly receive positive feedback from people they have helped and how they are impressed at the extra distance they went to help answer their questions. We truly have a great team. Thank you!"
The "Newsmaker of the Day" is heard every weekday morning at 6:45, 7:45 and 8:45 AM on AM 1450 and FM 102.7 KVML.