Deputies Stop SUV, Find Stolen ATM Machine, Meth For Sale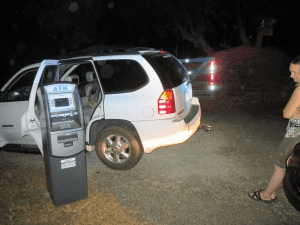 ATM unit recovered during Gallego arrest Aug 20 2018 TCSO Photo

View Photos
Sonora, CA — An early morning traffic stop for an expired registration resulted in the arrest of two alleged drug dealers and the recovery of a local gas station's ATM unit.
Deputies pulled over a white Chevy Envoy along Rawhide Road in Jamestown, recounts Tuolumne County Sheriff's spokesperson Sgt. Andrea Benson. Not only did they discover that 50-year-old Irving Gallego and 37-year-old Teresa Abreo of Columbia had 35.29 grams of methamphetamine, plastic baggies, and a digital scale with them, they were also in possession of a full size ATM, which Gallego admitted to taking from behind Cruisers gas station in Copperopolis.
The couple was arrested and booked into the Tuolumne County Jail for possession of and transportation of a controlled substance for sale, Benson reports, adding that as her office continues to investigate the circumstances surrounding the ATM theft, Gallego could face additional charges.