Woman Arrested After Allegedly Pounding Another's Face Into Concrete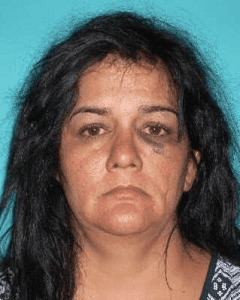 Arlene Peters TCSO Booking Photo

View Photos
Sonora, CA — A Sonora woman was jailed following an alleged serious bodily injury attack on another woman.
According to Tuolumne County Sheriff's spokesperson Sgt. Andrea Benson, the incident occurred Saturday evening after which deputies responded to a home on Dutch Mine Road in Jamestown for the reported attack. The female victim said she had been assaulted by 47-year-old Arlene Peters of Sonora. According to the report, Peters allegedly grabbed the woman by the hair then threw her to the ground. Benson further recounts that while the victim was still prone, lying on her stomach, Peters allegedly grabbed her hair and began pounding her face into the concrete until the victim was eventually able to reach up and pull Peters off of her.
Deputies state that they found blood on the concrete where the physical altercation took place, that the victim sustained severe swelling and bruising to her entire face and that her eye was swollen shut. They subsequently contacted Peters at her home, arrested her for felony battery causing serious injury and booked her into the Tuolumne County Jail, where she was assigned a $50,000 bail.