Update: New Details On Crash Down 100 Foot Ravine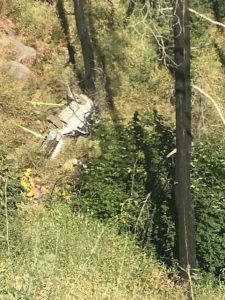 Smashed up GMC Yukon down in the ravine

View Photos
Update at 9:10pm: The driver of the GMC Yukon, Hailey Vidaurri, has reported to Clarke Broadcasting some updated information about the crash on Evergreen Road near Mather Road. She notes that she was not actually trapped in the vehicle, and was able to exit, where she was later carried up by rope. She was also the only one in the vehicle at the time, and there was no passenger. She has been treated and released from the hospital.
Original story posted at 12:10pm: Groveland, CA — The CHP has released the identity of the individuals involved in a two vehicle crash sending one sailing down a ravine in the Groveland area on Wednesday.
The crash happened on Evergreen Road north of Mather Road and east of Cherry Lake Road just after 9 a.m., as earlier reported here. The CHP reports that 21-year–old Hailey Vidaurri of Groveland was driving a 2001 GMC Yukon SUV and while coming around a blind curve at about 35-40 mph crossed into the oncoming lane. In that lane, was 40-year-old Alllen Bagda behind the wheel of a 1993 Chevy 3500 truck. The two vehicles hit each other sending the SUV soaring over an embankment and tumbling down it through brush about 100 feet, as pictures in the image box show. It came to rest on its roof.
When emergency crews arrived on the scene, rescue personnel had to use ropes to reach and free her.
Vidaurri suffered major injuries and was flown to Doctors Medical Center. Bagda was not hurt in the collision.