Nearly 3,000 Pot Plants Seized In Calaveras Drug Busts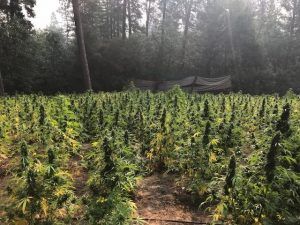 Pot plants found

View Photos
Calaveras County, CA — Two raids carried out by the Calaveras County Sheriff's Office Marijuana Enforcement Team (MET) netted nearly 3,000 pot plants — but evidence found on the site revealed another approximately 4,000 plants had just been harvested on one of the sites.
The searches took place last week on the sites suspected of illegal marijuana cultivation. The first raid was conducted on adjoining properties in the 6000 block of Fullen Road near Murphys. 647 marijuana plants were eradicated and about 93 pounds of marijuana in various stages of processing were seized. Three subjects were initially detained, but only one, 42-year-old John Le of San Jose, was arrested for illegal marijuana cultivation, possess marijuana for sale, and maintain a drug house.
The other search warrant was served at a property in the 100 block of Railroad Flat Road in Railroad Flat. Deputies eradicated 2,309 marijuana plants, but found evidence of nearly 4,000 plants that had been hastily harvested as partial stems had been left behind. No suspects were found at this site.