De Leon, Morse And Others Campaign In Tuolumne County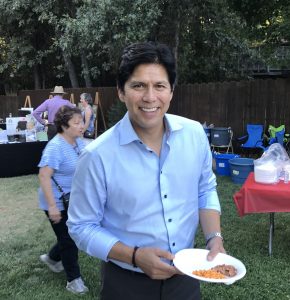 Kevin De Leon In Twain Harte

View Photos
Twain Harte, CA — Some state and federal candidates for office were in Twain Harte Thursday evening at a dinner hosted by local Tuolumne County Democrats.
The keynote speakers were former Democratic leader of the California Senate Kevin De Leon and Congressional candidate Jessica Morse.
De Leon was recently endorsed by the California Democratic Party in his effort to upset longtime fellow Democrat Dianne Feinstein in the US Senate race.  They were the top vote-getters in the June Primary election. He has been campaigning on issues like immigration reform, renewable energy, increasing the minimum wage and a 'Medicare for all' healthcare system.
He tells Clarke Broadcasting, "It is exciting for me to be here, and I think it is important to take my campaign up and down the state of California so that more people can learn about who I am and my values."
Wildfires have been a key concern in Tuolumne County over past weeks with the Donnell and Ferguson fires. When asked about the federal government's role in preventing and combatting wildfires, De Leon responded, "It is tragic and sad, but I think wildfires are the 'new-new' for California. The fires here have had a huge impact on the air quality that we breath and the fact that we have so many tourists that come up to this neck of the woods. We have to really put our heads together, CAL Fire and the federal government, to see how we can deal preventatively in regards to the fires. But, just as important in the long run is that we deal with climate change, because climate change is going to make the situation even worse."
De Leon was the Democratic leader of the state senate, Senate pro tempore, between October of 2014 and March of this year.
Jessica Morse also addressed wildfires in her speech at the event, arguing that it should not be a partisan issue. "A fire doesn't care if you are a Republican or a Democrat before it burns down your home," she stated.
Morse noted in an interview with Clarke Broadcasting that she feels her campaign is picking up momentum as she challenges Republican incumbent Tom McClintock. "I try to canvass and knock on doors every day. I've knocked on well over 1,000 doors and I have gone to all the counties in the district, and I hear some things consistently." She says the biggest concerns are topics like healthcare, jobs and wildfires.
A candidate for state Senate was also on hand, Paulina Miranda. She is running against Republican Andreas Borgeas for the seat currently held by the soon to be termed out Republican Tom Berryhill.
The Tuolumne County Democratic Central Committee noted that last night's dinner at Eproson Park was sold out with over 200 on hand.