Get 'Saturday Night Fever' At Railtown Fundraiser For Meals On Wheels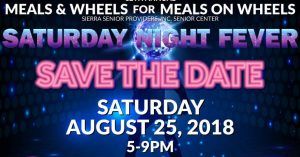 Meals On Wheels Saturday Night Fever at-Railtown 1897 Fundraiser Flyer

View Photos
Jamestown, CA – The Meals On Wheels program is locally "stayin' alive" through significant community support, which includes the year's biggest outdoor fundraiser — happening next weekend.
Whether or not flashy clothes, platform shoes, and disco dance floor jive and boogie moves under a mirrored ball are exactly your thing, Ron Patel, who is co-chairing the Aug. 25 "Saturday Night Fever" themed Meals on Wheels fundraising shindig at Railtown 1897, says it will be a great evening for an even greater cause. The event will be the twelfth year running. Incredibly enough, as Patel notes, last year's party with its Beatles' "Come Together" theme raised over $150,000 due to an outpouring of community support.
"So that got the [Meals On Wheels] program very much on track. But even having said that and through other donations last year, they still did have to cut the Tuesday [hot] meal delivery program, so they are only delivering meals four days a week instead of five," he says with a tinge of regret. Brightening, he confides, "So, as well as providing about 25 percent of their annual operating budget, come Saturday [Aug. 25] , we are looking to…reinstate the Tuesday program as well."
Responding To Higher Costs, Funding Losses With Stronger Support
Sierra Senior Providers (SSP), which locally administers Meals On Wheels, currently serves just under 500 individual seniors throughout Tuolumne County, bringing home-delivered, balanced and nutritious meals to homebound seniors age 60-plus. "When we started fundraising 12 years ago, the actual cost of a meal was just under $4 and today that cost has doubled," Patel states. Too, he says, wages have increased although the program utilizes a lot of volunteers. It was losing federal monies that really got supporters scrambling last year to break a fundraising record — which they did.
Patel, co-chair Stan Forrest, and their board of nearly two dozen members have been preparing to go all out again to help enable a similar result Aug. 25. "The state park is really great – they give us the park – then there is the entertainment, train rides, fabulous auction prizes and dinner by Seven Sisters in the park," he enthuses. Already Diestel Ranch donated $35,000 in turkey products towards reinstating the Tuesday delivery program, which costs $35,000 to $40,000 a year. So, come Saturday night, he shares happily, "We are going to match that on a separate reverse auction on the night to make sure that the five days are completely funded for the next year!"
Although the evening's end goal is plainly in his sights, Patel admits he is still working on putting an outfit together. Asked as if it will be a vintage look from the back of the closet, he chuckles, "I'm not sure…I had an old pair of flares — but they came in and went out again — so I think I threw them out!" However he quickly adds he and his wife are on task. "Don't worry — we're working on something!"
For ticket information and more details about the soiree, which runs from 5 to 9 p.m. at Railtown 1897 in Jamestown, click here. You can also find out more about Meals On Wheels and other SPP programs.