Raid On Illegal Pot Grow Finds Environmental Violations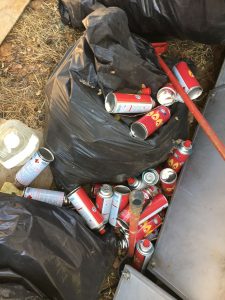 Tracsh found at scene

View Photos
Copperopolis, CA – A discouraging scene at a rural area Calaveras County property where pot plants and dangerous chemicals are found at the illegal grow site.
On Monday Calaveras County Sheriff's Office Marijuana Enforcement Team deputies aided the California Department of Fish and Wildlife in a raid in the Heiser Canyon area near Copperopolis. Although no suspects were found on the property, 517 marijuana plants were eradicated.
Investigators that included several scientists from the California State Water Board and Senior Environmental Scientists from the Department of Fish and Wildlife uncovered 20 Fish and Game Code violations. They ranged from redirecting streams to several areas having trash and other hazardous substances near or in the waterways.