Suspected Sugar Cubes Laced With Narcotics Seized In Sonora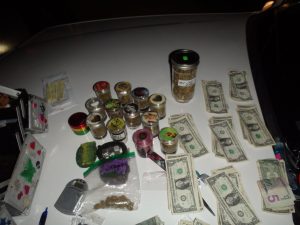 Drugs siezed in bust

View Photos
Sonora, CA – A traffic stop in Sonora revealed pot inside a vehicle and an even bigger drug stash in the trunk.
A Lexus southbound on Greenley Road around 9:30 p.m. Friday got the attention of a Sonora Police Officer on patrol for having an expired registration. The officer pulled the car over and found 47-year-old Tracie A. Glaze of Manteca behind the wheel. He also smelled the heavy odor of marijuana wafting from inside the vehicle and saw an opened container of pot on the floorboard. Glaze was also found to have methamphetamine on her.
A search of the entire vehicle uncovered a stash of drugs in the trunk including more containers full of marijuana, sugar cubes suspected of being laced with narcotics, pills, a scale and cash.
Glaze was taken into custody on narcotics transportation and sales plus possession of marijuana for sale. The latter charges entail possessing more than an ounce of marijuana and having an opened container in the vehicle. Her bail was set at $20,000.