Calaveras Transit Tweaks Schedule To Improve Connectivity, Service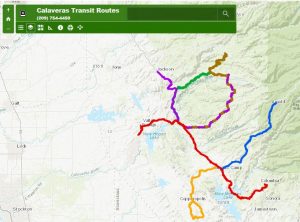 Calaveras Transit Route Map

View Photos
San Andreas, CA — As back-to-school time and the Labor Day weekend holiday near, a local public transit line prepares to debut improved service plans aiming for an all-ages audience.
Beginning Tuesday, Sept. 4, an adjusted schedule and an introduction to reduced fares for youth ages 12 and under and veterans will go into affect, officials say. They add that all the transit routes have been tweaked with minor changes designed to improve connectivity between routes and neighboring services.
Specifically, the Red Line schedule changes reflect adjustments to better align with Columbia College, Tuolumne County Transit and between the routes. The modified Brown and Purple combined lines will work more effectively with Amador Transit as well as provide a direct Sacramento bus connection at Sutter Hill Transit Center. The Blue Line will feature additional trips and timing adjustments to better coordinate with the Red Line.
The improved Saturday Hopper will provide more trips and stop "on the hour" in Angels Camp and eliminate Valley Springs stops. The new timing of the Copper and Green lines will reflect streamlined adjustments and the latter line will also offer a run that provides direct access to the Food Bank in San Andreas.
To view a routing map and the various line schedules, click into the image box slideshow. Calaveras Transit offers public transportation in Calaveras County and to Jackson and Columbia College Monday through Friday except for most county holidays. The Saturday Hopper travels cross-county, including stops in San Andreas, Angels Camp and Arnold.
Route deviations up to three-quarters of a mile from the regular fixed route and discounted fares are available for those age 65-plus and eligible disabled passengers. For more information, click here.