Caltrans To Auction Off 'Fixer Upper', Surplus Sites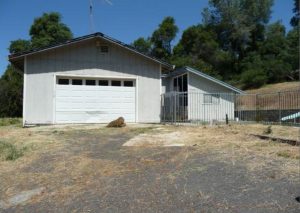 Fixer upper for sale by Caltrans Aug 15 2018

View Photos
Sonora, CA — No doubt it needs plenty of elbow grease and TLC but that is part of the reason why the opening bid is $125,000 for a house with pool on nearly two acres. It is among several excess properties Caltrans plans to sell 'as is' at a local auction tomorrow.
The three-bedroom, two-bath home is located at 20122 Waif Mine Road. According to Caltrans District 10 spokesperson Rick Estrada, it and a few other land parcels in Sonora officially became categorized as "excess properties" that were purchased for either the East Sonora bypass or Peaceful Oak interchange projects. The Waif Mine ones received the designation in the past few months.
"Once construction for a particular project is finished, any land we may have acquired for that project but did not use is determined to be excess land, and then put up for public auction," he explains. He adds that parcels in Valley Springs that also became excess in the first half of 2018 as part of the Highway 26 widening and realignment project are scheduled to be on the auction block beginning at 1:30 p.m. in the Tuolumne County Supervisors Room on the fourth floor of the county government center (2 South Green Street).
For the interested and/or curious, the other Sonora properties are: a vacant site north of Peaceful Valley Road, north and west of Mono Way; a vacant residential site on Waif Mine Road, east of Peaceful Oak Road; also a vacant commercial site on the west side of Standard Road, south of Mono Way.
The Valley Springs parcels, all residential sites, are located at 2393 and 2419 Barbour Road and at 2576 Silver Rapids Road.
While the event is open to the public, there are a few rules. Those planning on participating must arrive and register by 12:30 — and bring one or more cashier's checks or money orders (no personal checks) for $1,000 payable to the Department of Transportation, as one is required for each successful bid. For more details, click here.