McClintock And Others Send Letter To President About Wildfires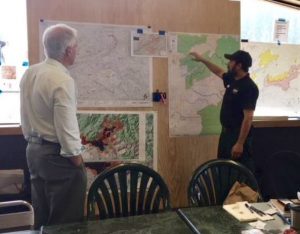 Congressman Tom McClintock hears an update on the Donnell Fire

View Photos
Washington, DC — Congressman Tom McClintock, along with 13 other California Congressional Republicans, signed a letter calling on President Trump to keep federal funding on the fast-track to assist ongoing fire suppression and recovery.
The letter notes that for California to endure these catastrophic wildfires, it is going to take continued leadership and support. The letter notes that California has the potential for its worst fire season in history, as over 629,500 acres have been burned to date and the fires have had huge impacts on the communities. Others to sign the letter include regional lawmakers Jeff Denham, Doug Lamalfa and Devin Nunes.
McClintock has visited both the Ferguson and Donnell fire incident command centers to receive updates on the fires.