Mountain Ranch Ribbon Cutting Opens New Public Safety Substation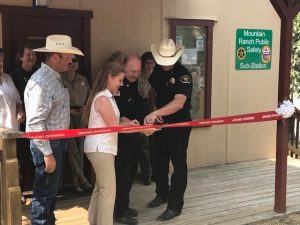 Ribbon cutters of the new Mountain Ranch Public Safety Sub Station Aug 10 2018

View Photos
Mountain Ranch, CA — Calaveras County sheriff's officials and three other local entities cut the opening ribbon to new public safety resource in an area still coming back from 2015's Butte Fire disaster.
The new Mountain Ranch Public Safety Substation, located at 7869 Whiskey Slide Road in Mountain Ranch Community Park, is a joint venture between the sheriff's office, Central Calaveras Fire Protection District (CCFPD), and the Mountain Ranch Youth Alliance and Resource Center. It is located in Mountain Ranch Resource Center's Food Bank building under an agreement with the Resource Connection, as Alison Charter-Smith of the Youth Alliance and Resource Center gratefully noted.
On hand to assist with the grand opening of the Mountain Ranch Public Safety Substation today, Sheriff Rick DiBasilio acknowledged that while having a sheriff's substation is not completely new to that community, this particular facility is set up as a place where members of the public can meet with patrol deputies and use an available computer to file online crime reports and electronically access other governmental assistance resources. He thanked the volunteers who staff the substations around the county, adding that sheriff's volunteers will be among those staffing the new station with hours shortly to be announced. He also encouraged anyone interested in becoming a volunteer to apply.
CCFPD Chief Jeff Stone stated that the office will increase the district's ability for Mountain Ranch community outreach and that fire department personnel will be staffing it Tuesdays and Fridays from 10 a.m. until noon. Among the offerings his staff will provide he says is information on disaster preparedness, fire safety and fuels reduction; residents will also be able to get reflective address signs there and find out about various other resources such as the free senior firewood program.
District 2 Supervisor and Vice Chair Jack Garamendi, who was also in attendance, commented that Mountain Ranch continues to be a community that has to rebuild itself and that the new substation for residents in Mountain Ranch constitutes another positive step in the right direction.