Yosemite Valley Closed Indefinitely Due To Ferguson Fire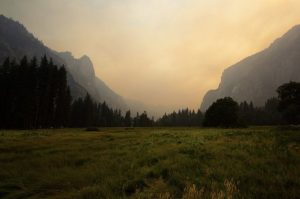 Smoke In Yosemite

View Photos
Yosemite, CA — After initially planning to re-open later this week, Yosemite Valley, and other popular areas of the park, will remain closed indefinitely.
The National Park Service reports that it is due to increased fire activity both in and adjacent to the park. The Ferguson Fire, which ignited on July 13, is up to over 89,000 acres. Click here to read an earlier story from today. Over the past 48 hours the fire has impacted access roads to Yosemite Valley and firefighters are facing hazardous conditions due to dead and dying trees in the blaze's path.
The fire has been burning above the Arch Rock entrance station, moving up the Merced River canyon toward western Yosemite Valley. The fire has also crossed Glacier Point Road and forced the firefighters to shelter in place at Badger Pass.
In addition to Yosemite Valley, the closure areas include El Portal Road, Wawona Road, Big Oak Flat Road, Glacier Point, Merced and Mariposa groves of giant sequoias, Wawona Campground, Crane Flat campground, Tamarack campground and many other sections of the park.
One notable area that remains mostly open is Tioga Pass, and most of the trails and campgrounds. However, the only way to access it at this time is via Lee Vining.