Governor Brown Dealing With State's 15 Major Wildfires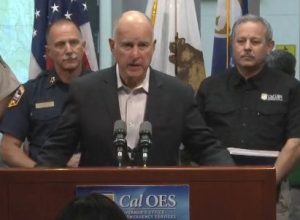 Governor Jerry Brown speaks at CAL Fire OES meeting Aug 1 2018

View Photos
Governor Jerry Brown issued an executive order to cut red tape and help streamline recovery efforts in communities impacted by the devastating wildfires that continue to burn in Lake, Siskiyou, Shasta, Mendocino and Napa counties.
Brown was Friday's KVML "Newsmaker of the Day".
There are 15 major fires currently burning in California that have destroyed homes and infrastructure and continue to threaten communities. More than 13,000 firefighters from California, 17 other states, Australia and New Zealand are working the front lines of wildfires statewide.
The executive order includes provisions that:
Expedite debris removal and cleanup of homes and businesses that were damaged or destroyed by the fires;
Extend the state's prohibition on price gouging during emergencies;
Suspend planning and zoning requirements and state fees for manufactured homes and mobile home parks to help displaced residents with housing needs;
Allow for the accelerated hiring of additional personnel for emergency and recovery operations;
Provide waivers on temporary school facilities and outdoor physical education requirements to allow schools to open as quickly as possible;
Extend the filing deadline for certain taxes for businesses in the impacted counties;
Streamline contracting and purchasing rules; and
Strengthen coordination between state agencies on environmental restoration in fire-impacted areas.
Last weekend, Governor Brown announced the federal government's approval of a presidential major disaster declaration for Shasta County and met with local leaders and fire and emergency management officials at the Carr Fire Incident Command Post in Anderson. The federal government is reviewing the presidential major disaster declaration request for Lake, Mendocino and Napa counties on an expedited basis as preliminary damage assessments continue. The Mendocino Complex fire is now the largest fire in state history and remains a dynamic challenge for firefighters.
Previously, Governor Brown declared a state of emergency in Mariposa, Shasta, Lake, Mendocino, Napa and Riverside counties due to multiple fires and secured federal aid to further support communities impacted by the Carr Fire. Yesterday Brown issued an emergency proclamation for Orange and Riverside counties due to the effects of the Holy Fire, which has threatened critical infrastructure, thousands of homes and other structures and has caused the evacuation of residents.
Last week, Governor Brown joined the state's top emergency management officials at the State Operations Center in Mather to provide an update on the ongoing fire fight. The State Operations Center is activated to its highest level to help local, state and federal emergency response officials address emergency management needs.
Governor Brown also issued the following statement regarding the death of California Department of Forestry and Fire Protection (CAL FIRE) Heavy Equipment Mechanic Andrew Brake:
"Anne and I offer our condolences to the family and loved ones of Andrew Brake, who passed away in a vehicle accident on his way to work this morning. On behalf of all Californians, we honor Andrew and the many other brave firefighters and emergency responders who have risked their lives to protect others."
Brake, 40, died in a single vehicle accident today while on his way to work on the Carr Fire burning in Shasta and Trinity counties. He is a six-year veteran of CAL FIRE.
Brake grew up in Chico and is survived by his parents, Melvin and Teresa, daughters Marissa, 20, and Miranda, 16, and their mother Liberté. Brake is also survived by his sister Lyndsay Barrett, her husband, Bryan, and their children Lily and Jackson.
Capitol flags will be flown at half-staff in his honor.
The "Newsmaker of the Day" is heard every weekday morning at 6:45, 7:45 and 8:45 on AM 1450 and FM 102.37 KVML.