New Details On Fiery Jamestown Crash Involving Stolen Car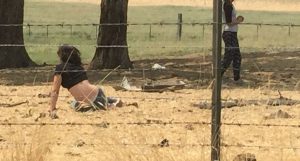 Highway 49 Crash

View Photos
Jamestown, CA – The CHP has released further details surrounding the victims of a solo-rollover crash on Highway 49 near the Montezuma Junction Wednesday afternoon.
Investigators details that the stolen vehicle, a Ford Fusion, was reported taken on August 1st from a private property in Merced. That is making it difficult to identify the driver, who has remained unconscious since being pulled from the burning vehicle. The four other passengers were locals. They include a 17-year-old male, 15-year-old and 14-year-old females, all from Groveland and a 16-year-old female from Columbia. It is unclear if they are not revealing the driver's name to investigators or if they do not actually know it.
One detail that is known, all five passengers were wearing their seatbelts. A fact which may have saved their lives since the vehicle was going over 100 mph when it went into a field rolled over several times, hit a tree and landed on its roof, according to the CHP.
The wreck happened near Simms Road between Jamestown and Chinese Camp, as reported here. The driver suffered major injuries and was flown to Doctors Medical Center. The passengers were all treated at Adventist Health Sonora for minor to moderate injuries.
Anyone with information regarding the crash or the driver is asked to contact the Sonora CHP unit at 209-984-3944.