Stolen Car Involved In Fiery Montezuma Junction Wreck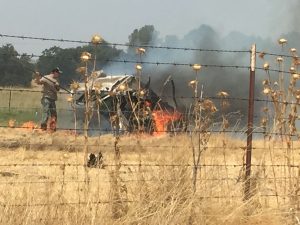 Highway 49 Crash passerby Tyler Matthews breaks driver side window

View Photos
Jamestown, CA – The CHP reports that a vehicle involved in a solo-rollover fiery crash on Highway 49 involved five juveniles – and the sedan they were in was stolen.
The wreck happened around 1:30 p.m. north of Simms Road between Chinese Camp and Jamestown, as reported here. CHP officer John Chituras details, "The 16 or 17-year old male driver in a 2017 Ford Fusion was going in excess of 100 mph when on a right curve he lost control of the vehicle."
The car went into a field, rolled over several time, smashed into a tree and landed on its roof. It then caught on fire. Four passengers in the vehicle, all juveniles, were able to get out of the car. The driver was unconscious and a passerby's had to pull him out of the vehicle just before the flames engulfed it, according to Chituras. Picture in the image box pictures show one passerby using a pole to break the driver side window to rescue him.
The CHP had called for an air ambulance for the driver, but it was grounded due to the smoke skies, according to Chituras. Instead, all five of the victims were taken to Adventist Health Sonora. The driver was later flown to a Modesto hospital suffering major injuries. Chituras notes that the other four had injuries ranging from minor to moderate.
Chituras confirmed to Clarke Broadcasting that the vehicle was stolen out of Merced. He says it is not know at this time if drugs or alcohol played a role in the crash. The wreck shut down Highway 49 from the junction to Simms Road for about 2 ½ hours backing up traffic during the evening commute.