Governor Brown: Wildfires Are Part Of A New Normal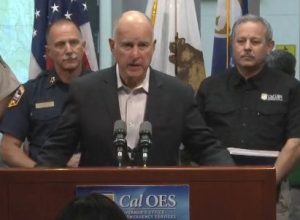 Governor Jerry Brown speaks at CAL Fire OES meeting Aug 1 2018

View Photos
Governor Jerry Brown announced that the White House has approved California's request for a Presidential Major Disaster Declaration submitted to the President to help with the impacts of the wildfire in Shasta County.
Brown was Tuesday's KVML "Newsmaker of the Day".
"This is part of a trend – a new normal – that we've got to deal with. We're dealing with it humanly, financially and governmentally," said Governor Brown during a media briefing at the Carr Fire Incident Command Post in Anderson, California. "These kinds of horrible situations bring people together, regardless of the lesser kind of ideologies and partisan considerations."
A Presidential Major Disaster Declaration helps people in the impacted counties through eligibility for programs and support, including housing assistance, food aid, unemployment assistance, counseling and medical services and legal services. The declaration also includes public assistance to help state, tribal and local governments with ongoing emergency response and recovery costs, including repairs and replacement of disaster-damaged facilities and infrastructure such as roads, bridges and utilities. The declaration also includes hazard mitigation, which helps state and local governments reduce the risks and impacts of future disasters.
There are 17 major fires currently burning across the state, causing extensive damage to residences and infrastructure. More than 14,000 firefighters from California and 17 other states are working the front lines of wildfires statewide.
Governor Brown met with local leaders and fire and emergency management officials at the Carr Fire Incident Command Post in Shasta County and officially requested the Presidential Major Disaster Declaration for Lake, Mendocino, Napa and Shasta counties.
Last week, Governor Brown declared a state of emergency in Shasta, Lake, Mendocino, Napa, Riverside and Mariposa counties due to multiple fires and requested and secured federal aid to further support communities impacted by the Carr Fire.
Earlier this week, Governor Brown joined the state's top emergency management officials at the State Operations Center in Mather to provide an update on the ongoing fire fight. The State Operations Center is activated to its highest level to help local, state and federal emergency response officials address emergency management needs.
The "Newsmaker of the Day" is heard every weekday morning at 6:45, 7:45 and 8:45 on AM 1450 and FM 102.7 KVML.